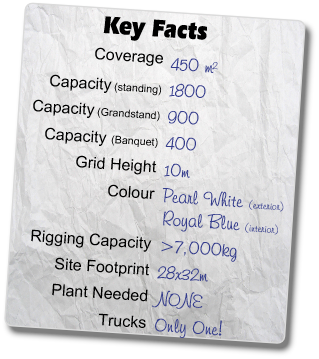 Our compact adaptable venue designed to fit in locations no other structure can fit in but that doesn't compromise - packed with all the facilities and benefits you find in our other structures the Lyric is designed for more intimate performances and locations.
A revolution in Theatre-Tent and "big top" technology, the Lyric Class of structure is a fully CDM compliant Tensile structure that is packed with innovative technical advances and design features that save time and money. Incorporating more than 20 years development and experience in Theatre-Tent's the Lyric class of structure incorporates the best features and innovations to make a user-friendly, practical and awe-inspiring home for your next performance.
This structure can be fully erected in as little as 6 hours, taken down in 4 and the roof structure never has to touch the ground (unlike other tensile structures which have to be laid directly on to the ground and dragged through mud to assemble them) making this one of the quickest and easiest tensile structures to work with in the world.
With more usable height inside, tonnes of rigging capacity, unbeatable sight-lines and our iconic shape the Lyric Theatre-Tent is the perfect home for your next show.


Like all our theatres this iconic, architect designed tensile structure is White on the outside (so it can be lit and projected on to), 99% blackout inside and completely weather proof.
 

 

Traditional Theatre

Seating Capacity - 600
Stage Dimensions - 9x8m

Offering a variable height fly space (grid height 10m/ds - 5m/us) and a traditional proscenium stage it's easy to transfer traditional venue tours and productions in to this structure. With the added bonus of plenty of wingspace (8m to walls) there's room backstage making it a very easy to work.

 

 

In the round

Seating Capacity - 900
Stage Dimensions - 10m (circular)

For truely unique presentations there's nothing better than "in the round" configuration as there's no better way for the audiance to get up-close-and-personal with the show as the furthest seat is only 11m from the stage! Can also be configured as a thrust stage making it the ideal home for everything from Shakespeare to an ice spectacular.

 
 

Concert

Seating- 900
Stage Dimensions - 11 x 5m

Sometimes it's all about "being there" so this is the perfect format to maximise capacity and still give everyone a great view of the stage. It's perfect for comedy, music, presentations or theatrical events that don't need extensive flying facilities and will fit on to a concert or semi-proscenium stage.

 

 

 

Clear Space

Standing - 1800
Seated (tables) - 400
Area - 450m

Sometimes you just want a big empty space and with 24m of clear, unobstructed open space protected from the outside world. 4m eves height rising to the mother grid @ 10m height its a vast open space that's just perfect for parties.